7-Eleven: FREE Slurpee Day (July 11)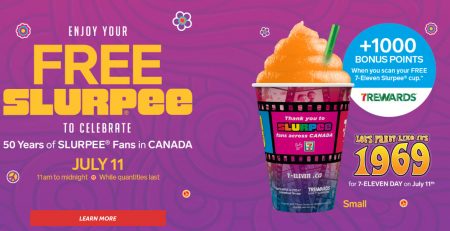 Happy 7-Eleven Day!
7-Eleven is celebrating their 50th birthday today (Thursday, July 11, 2019) by giving away FREE Slurpees!
Visit your local 7-Eleven store and get a FREE Small (12oz) Slurpee between 11am-midnight.
You don't need a coupon or anything to get the freebie. Valid at participating 7-Elevan stores. Whiles supplies last.
If you collect 7Rewards, you can get +1000 bonus points when you scan your free 7-Eleven Slurpee Cup.
Click here to visit 7-Eleven's website for more details.
Click here to find a 7-Eleven store near you.
Enjoy the freebie!